Nagoya Hagata Inc. is a 30 worker-scaled company which challenges to cutting of 1/100 mm (10μm) in various optical and multi-layer films for IT industries and also manufacture cutting dies for automotive interior parts. We aim at an organization which we can quickly respond to change of global time and human formation.
We make efforts in daily operation as a slogan "All of us aim at our happiness based on a unique company with up-date advanced technology". We acquired certificate ISO 9001 in Nov. 2007. We were authorized as An Aichi Brand Company in Feb 2010. From now, we will go ahead to live through hard times as a technical group which we keep on developing new technology for future.
Profile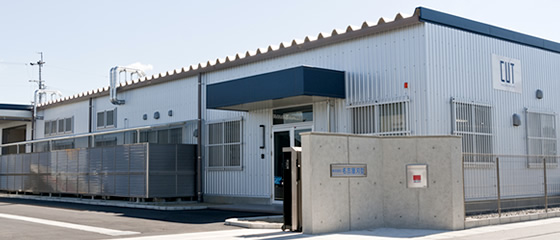 Office / Factory
Company Name
Nagoya Hagata Incorporated
Address
12 Minami Oohori, Higashi Itsushiro, Ichinomiya, Aichi
zipcode 494-0008
Tel : 0586 61 7722 Fax : 0568 61 7772
Foundation
1 July 1992
Representatives
Managing Director Yoshiaki Matsunaga
Capital
10,000,000 Yen
Bank
Oogaki Kyoritsu Bank Bisai Branch
Hyakugo Bank Nishiharu Branch
Ichii Truth Bank Head Quarter
Business Items
Manufacturing and sales of dies

Punching dies for optical films such as Liquid Crystal / Plasma TV / Organic EL / Solar Battery
Precise cutting dies with Thompson type for IT related
Cutting dies for half-cut
Cutting dies for automotive interior parts
Material for cutting dies, tap and so on

Sales
400,000,000 Yen / year
Number of workers
30 persons
(on March, 2011)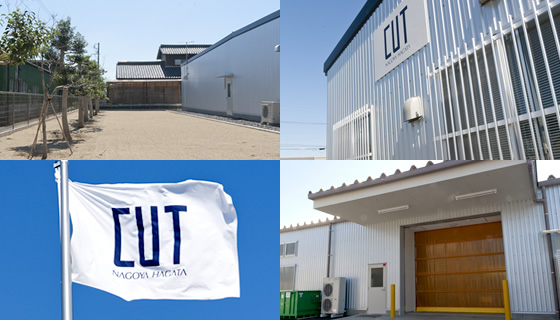 Philosophy
Motto
Originality & Improvement
Sincerity
Trust
Philosophy
We realize a unique company in cutting die fields by collaboration of originality & improve- ment, advanced technology and professional skill, and all of us become happy.
We make efforts for global service to our customers by education for our staffs and self-training.
We get customers' trust by product guarantee with accuracy and delivery observance.
Policy
We strengthen sales increase of cutting technology of optical film for IT industries applied high precision technology
We realize proposal business style which meet customers' request.
We proceed Human Technology.
History
July 1992
Operation at 52 Aza Shinmeishita, Asano, Ichinomiya, Aichi
Oct 1992
Registration for corporation
July 1997
Foundation of new office at 2-14-6 Takagi, Ichinomiya and removal
Manufacture start of precision dies for IT
Dec 2002
Manufacture start of carving block
July 2003
Display at Tokyo Big Site ( First *FPD Exhibition in cutting industries)
*FPD : Flat Panel Display
Oct 2004
Expansion of current factory
Apl 2005
Display at Tokyo Big Site (2nd FPD Exhibition in cutting industries)
Jun 2006
Project start for acquirement of certificate for ISO9001: 2000
Nov 2007
Acquirement of certificate for ISO9001: 2000
Apr 2008
Display at The 18 Fine Tech Japan (Exhibition of R&D and production technology for Flat Panel Display )
May 2009
Renewal for ISO9001: 2008
Nov 2009
Commendation by Nagoya City Association in Industrial Technology
Feb 2010
Authorization as An Aichi Brand Company
Sep 2010
New office foundation at 12 Minamioohori, Higashiitsushiro, Ichinomiya and removal
Access Map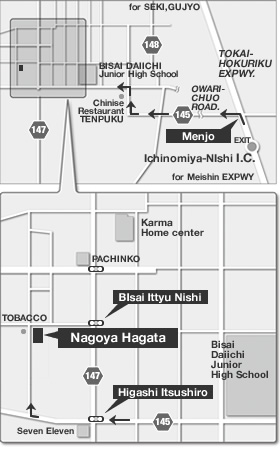 How to get at our office by car
Get off at Ichinomiya-nishi IC on Tokai-Hokuriku Expwy → Turn left at Menjo on Owari-Chuo Road → Go straight along the road (about 2Km) → Turn left at yellow Chinese restaurant "Tempuku" → Go straight for 150m to Seven-Eleven at Higashi Itsushiro crossing → Turn right at first T-junction → Go straight (200m) and you'll find it in your right side.
See also GoogleMap
Discussion Room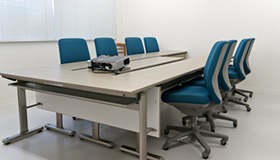 1st Discussion Room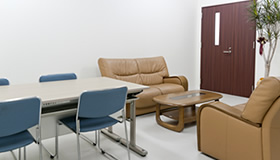 2nd Discussion Room